From our ecosystem to our group sessions, coaching sessions and network of experts, our Accelerator is focused on launching faster and innovating smarter.
Goal of Accelerator
Our Accelerator is focused on building successful food businesses by operating as a multiplier and accelerant of your success. Through our ecosystem, industry partners, and expertise, we empower you to launch faster and innovate smarter.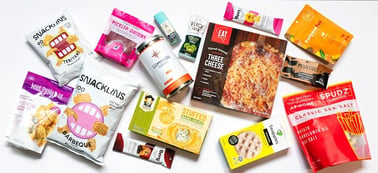 Our Accelerator is designed to help you navigate and overcome many of the challenges CPG startups face from understanding how to manufacture, securing distribution, and selling into stores.
On average, our Accelerator has helped food founders launch and scale their business 7x faster than launching on their own.
Overview
We understand that launching a business can be complex and challenging. Often there is no clear roadmap to getting your product on a shelf and growing beyond that. Our Accelerator guides you through the process of launching, growing, and scaling your business using our extensive experience in the CPG food industry. As part of our Accelerator, we provide access to:
Our Ecosystem of Kitchen, Distribution, and Stores
Group sessions
Coaching sessions
On-demand Courses Library
Network of experts
Let's take a more detailed look at how each element of our Accelerator works together to launch and scale your business to last.
Our Ecosystem
Our ecosystem of Kitchen, Distribution, and Stores provides the infrastructure you need to successfully navigate launching and scaling your business. Our licensed facility allows you to learn to be the best at manufacturing your product without the high upfront costs of building your own facility or using a co-packer. Our Distribution allows you to build out your proof of concept and break into stores in the DC Metro area. While many food founders will face high barriers to entry onboarding with a distributor, food founders in our Accelerator program onboard with Union Kitchen distribution the day they launch. Our stores allow you to drive early revenue to your brand while you learn what customers what.
Kitchen: Manufacture Your Product
The food and beverage space is incredibly competitive. There are new brands launching every day. What is at the core of building a food business to last? Manufacturing. Manufacturing creates defensibility, allows you to dictate the quality of your products, innovate faster, and control your inventory. That is why we are obsessed with manufacturing at Union Kitchen.
And, there's nothing like the hum of 70+ food founders manufacturing delicious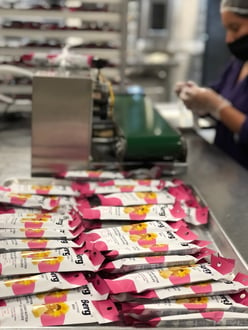 products everyday. From delicious potato hashes to melt in your mouth Irish shortbreads, our 17,000 square foot, USDA-Meat and Organic Certified licensed facility houses over 70 local food businesses honing their manufacturing expertise. This community of like-minded entrepreneurs is a space for our food founders to collaborate with and learn from one another as they launch and scale their CPG businesses.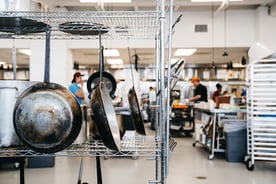 Our Kitchen team provides food founders with the resources and tools they need to ensure they are producing their products safely and in compliance with regulatory agencies. And, because we are such firm believers in manufacturing, Accelerator members receive investment to help cover the costs of their membership fees.
Accelerator members also get the chance to pitch their products to our retail and distribution partners through regular tastings we host in the space. There is nothing cooler than showing a potential buyer how you make your product, and even better, giving them a taste right from the source!
Distribution: Get Your Products Into Stores
Stores want to work with brands on a distributor. Distributors want to see that you have sales in stores. This is where our Distribution comes into play! Break into accounts and build your proof of concept with our team. Our distribution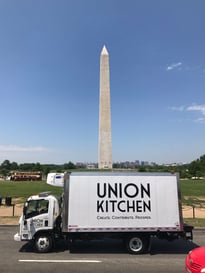 is on the road five days a week, delivering over $2mm of Accelerator Member products annually. Through our distribution, our Accelerator members can show they have sales and a product that people want.
Our Accelerator team works with you to best understand the ins and outs of working with a distributor so you are set up for success not only with Union Kitchen distribution, but with all future distributors you'll work with as you grow.
Stores: Sell Your Products
At the end of Phase One: Launch, our food founders launch their market-ready products into our 6 stores (and more coming!) in the DC Metro area. Our stores allow Accelerator members to learn what consumers want and build their products into habitual purchases.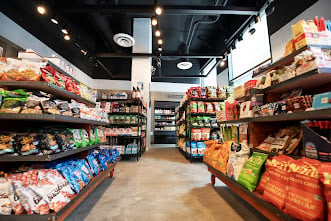 In our stores, member products are sold alongside national brands. This not only drives early revenue towards your company, but helps build out your proof of concept. People grab a bag of Snacklins over a bag of Doritos, not because it's local, but because it's a great product they want.
Our Accelerator members have access to their sales data from our stores, equipping them with the information needed to pitch to additional retailers. This invaluable sales data allows our food founders to show other buyers that their product is something people want and will buy over and over again.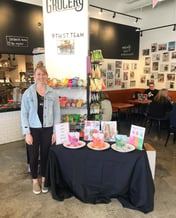 If you've ever been to one of our stores, you may have gotten to sample some of the delicious, new products our Accelerator members are creating. You may have even gotten the chance to meet them. Accelerator members have the opportunity to hold demos at our stores where they can sample their products, gain valuable feedback from customers, and boost their sales.
Group Sessions
Once accepted into our Accelerator, you are joining a community of like-minded entrepreneurs walking the same path of launching and scaling successful food businesses.
Our Phase One: Launch and Phase Two: Product Market fit group sessions are our instructor-led, discussion based classes focused on educating our food founders on how to best accelerate the growth of their business. Group sessions cover topics ranging from mission and core values to understanding your core consumer to pricing and what makes a successful entrepreneur.
Group sessions are a chance for our food founders to build relationships with other members in their cohort, ask questions, and discuss topics critical to their businesses' success. Our group sessions are anchored by our playbooks, workbooks, and on-demand courses that provide foundational knowledge, thus allowing for rich and engaging discussions.
Each cohort, we host a concept pitch night where our food founders pitch their products and business ideas to an expert panel composed of Phase Four Accelerator brands and the Union Kitchen leadership team. During concept pitch, our food founders get unparalleled insight early on in the launch process from the successful food founders who have come before them. With lots of delicious samples, wine, beer, and the beautiful landscape of Compass Coffee's 50,000 square foot roastery facility, Concept Pitch is a fun night of feedback, networking, and development for Accelerator brands.
Two of our panelists reflect on their experience during concept pitch:
"Being a panelist in Union Kitchen's concept pitch is as beneficial for me as it is for the entrepreneurs. Keeping my finger on the pulse of new brands, networking with next generation of food start-ups, and being able to help them along their journey is the true definition of "win, win"" - Samy Kobrosly, founder of Snacklins
"My experience as a panelist for Concept Pitch with Union Kitchen was a great way to share the knowledge I've acquired in almost three years since launching Revol Snax. I loved listening to other entrepreneurs' stories, challenges and hopes. It was also a great way to participate in the community, connect with others in the space and even discuss ways of working together. This is how we build community." - Nadine Calderon, co-founder of Revol Snax
Coaching Sessions
In addition to group sessions, our Accelerator members have monthly one-on-one coaching sessions with the Accelerator team. These 30 minute sessions are dedicated time for our team to meet with each brand individually and coach your brand to success. We're in the weeds of launching and scaling businesses everyday and are intimately familiar with our ecosystem of kitchen, distribution, and stores. We bring this experience to every coaching session to best support your company through the challenges and triumphs of running a business.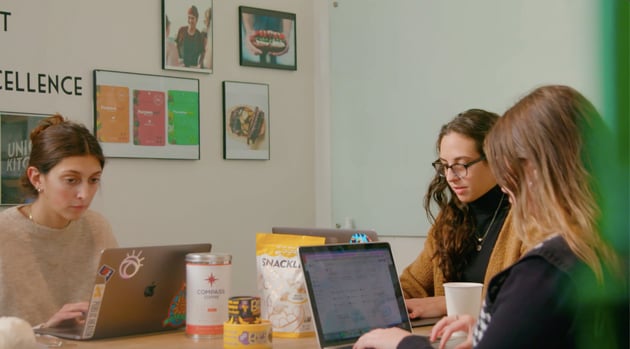 On Demand Courses
As the founder and CEO of your business, you have a lot to do from bookkeeping and sales to manufacturing and marketing. And if things are going well, the to-do list just keeps growing. We understand that carving several hours of your day for sit-down lectures is not conducive to the lifestyle of a startup CEO. That is why we developed our library of on-demand courses for our food founders to learn about key concepts at their own pace. Our on demand course offerings cover topics such as how to license your food business to the ins and outs of packaging to product formulation and more.
Check out all the courses available for free to our accelerator members here.
Access to our network of experts
Industry Experts
Food founders in our Accelerator program get unprecedented access to mentorship from industry leaders. Through our partnership with Nestlé, Accelerator members get the chance to receive mentorship from manufacturing experts on the executive team. We're proud to share that every one of our Phase Four brands and a majority of our Phase Three brands have had the opportunity to meet with the Nestlé team. They have left the call with guidance on everything from determining which equipment to purchase to understanding how to better resolve bottlenecks in their production process.
Accelerator members are also able to leverage our partnership with Ingredion, an industry leader in ingredients, to get expert advice on product formulation. Each month one Accelerator member spends an hour meeting with the Ingredion team of experts to talk through the challenge and questions they have surrounding product development, product formulation, and shelf life.
Retail and Distribution Partners
We host regular tasting with the buyers from Giant and Rainforest Distribution.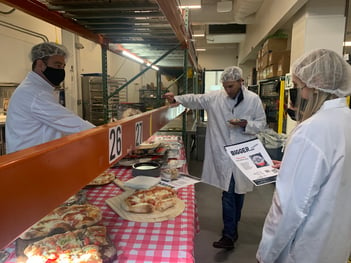 During tasting events, food founders have the opportunity to meet with the buyers, show them their production space and provide samples.
We have launched over thirty Accelerator brands and 140 products into new accounts and distributors through our partnership with regional retailer, Giant Foods, and regional distributor, Rainforest.
Member Testimonials
"We made this crunchy, puffy, almost pork rind-like chip and as we got bigger, we realized this has legs, and we got to get somewhere legit. And that's when Union Kitchen came on and they not only gave us a space to work out of but they also helped us with guidance and building the infrastructure that you need to start a company. It's not just cooking oddly enough" -Samy Kobrosly, founder of Snacklins

"When I first started this, I thought I can go and lease a space and have my kitchen there. And I looked online found Union Kitchen and the rest is history. Having the accelerator program, the certified kitchen, the distribution, the grocery store, it means you have all the pieces to go from developing your idea to actually trying it on shelves with the least amount of risk and least amount of investment." - Margarita Womack, founder of Mas Panadas

"And we hear about Union Kitchen and we're building out our first cafe. And Cullen is starting to explain that there's products that they are making that they could sell to us. That's really the beginning of our relationship with Union Kitchen is we're buying fresh baked goods from Union Kitchen, we're buying snacks. ...we'd rather support local businesses with people that we know" - Michael Haft & Harrison Suarez, co-founders of Compass Coffee