Our Accelerator works through four phases to help build food businesses to last: Launch, Product Market Fit, Growth, and Scale.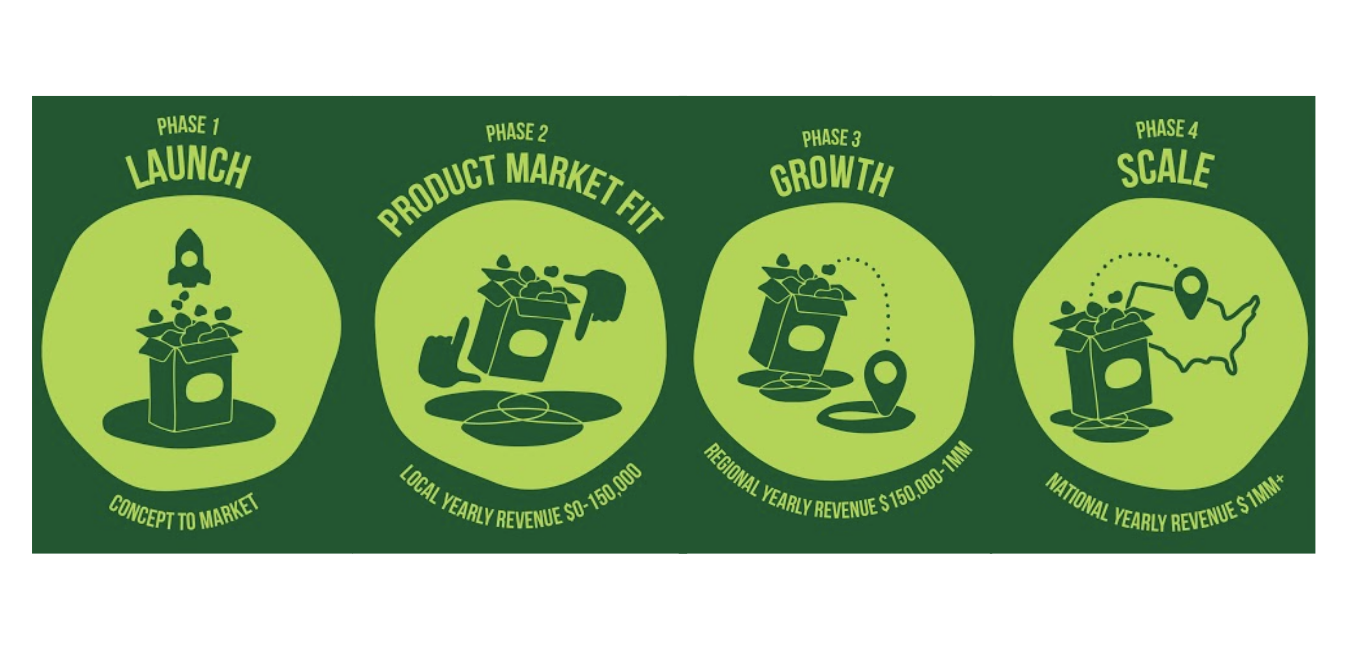 Phase One: Launch
Launch is about building a cohesive concept, executing the technical elements of a market-ready product, and launching into the market.
Phase One includes a 16-week program divided into three sections:
1.1 Concept: Define a mission, core values, and the six interdependent elements of a cohesive concept: pain point, value proposition, product, core consumer, market, and brand

1.2 Technical Execution: Execute technical elements, including product development (formulation + manufacturing), packaging, and pricing

1.3 Launch: Tie everything together through channel strategy, sales, and preparing for product review
Phase One includes:
Group Sessions covering topics like Mission & Core Values, Concept, Pricing, Retail, Distribution, and more
Access to On-Demand Courses covering topics like Licensing, Packaging, Product Formulation, Distribution, and more
3 Playbooks (Concept, Technical Execution, Launch)
4 Coaching Sessions
3 Workbooks (Pricing, Launch Checklist, and Production & Inventory)
Access to Knowledge Base
Investment covering one month of full-time Kitchen membership fees and four additional months at 50% of full-time Kitchen Membership fees
We expect Accelerator Brands to complete Phase One in 4 months.
---
Phase Two: Product Market Fit
Product Market Fit is learning what consumers want and how to deliver that consistently through scalable systems, team building, and leveraging our ecosystem.
2.1: Product is officially launched in stores!
2.2: $50,000 12 Month Sales
2.3: $100,000 12 Month Sales
Phase Two includes:
Training and content deployment around sales, manufacturing, and finance

Listed in our distribution catalog and newsletters
Tastings with regional buyers (*At the discretion of Union Kitchen)
Access to Knowledge Base

Quarterly Coaching Sessions (*Up to 10 in Phase Two)

Ongoing support on product launches through our Product Review, including direct feedback from our executives and store teams

Showcase and sell products in our stores

Access to Milestone Based Investment
Investment Workbook and Network
---
Phase Three: Growth
Growth is expanding a product that has achieved regional product market fit and building the operations to support that.
This phase focuses on running teams and organizing around your mission.
3.1: $150,000 12 Month Sales
3.2: $300,000 12 Month Sales
3.3: $500,000 12 Month Sales
Phase Three includes:
Advisory as needed on manufacturing, facility build out and management, and team management
Programmatic elements on hiring and team building, including training playbooks and team checklists
Access to Knowledge Base
---
Phase Four: Scale
Scale is achieving national market penetration by outselling the leading competitors
We bring our operational expertise and network to assist in making real choices about brands, typically building manufacturing facilities, raising money, and exit planning.
4.1: $1,000,000 12 Month Sales
Phase Four includes: